Save 17% on Green Items this Friday, Saturday and Sunday (March 12-14, 2021)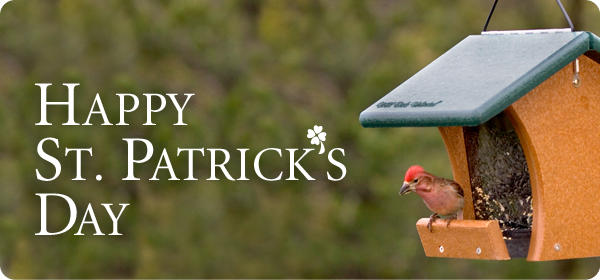 Lucky You!
17% OFF Green Stuff *
March 12 -14, 2021
Friday, Saturday and Sunday
Green-colored and "Green" Products, including:
EcoTough Feeders
NEW Modern Rustic Feeders
NEW Featherweight Feeders
QuickClean Feeders
EcoClean "Green" Feeders
Gifts, embroidered caps, t-shirts, ear-rings, MOVA Globes, puzzles and more!This is the only time feeders are on sale!
Daily Savings Club Members get BirdBucks Points on all product purchases - no matter what color.
* Green must be part of the product, not just the packaging. Bird Seed (seed, suet, or cylinders) is NOT included in this offer.
** Sale is valid In-Store only at WBU Denver at 2720 S. Wadsworth Blvd, Denver CO 80227. Orders placed on-line for delivery, curbside or in-store pick-up are not eligible for the sale.