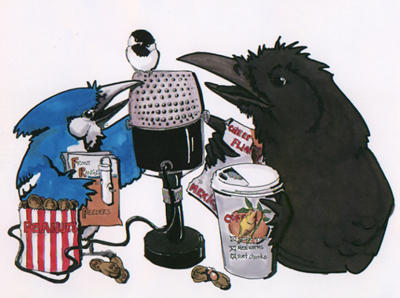 Join the BirdTalk Flock
Listen to BirdTalk every Saturday from 12:00 to 1:00 Mountain Time on AM radio 710 KNUS and 1690 KDMT to find out what's happening in our natural world. Scott & David Menough (pictured above) will host this entertaining and informative talk radio show. You'll hear fascinating interviews, interesting nature topics, and have your questions answered. Call with your questions and wild bird or critter stories to (303) 696-1971.
Now you can watch the BirdTalk broadcast on Facebook Live. Like our page on Facebook to watch live or to catch up after the show.
Podcasts of the program are available at http://birdtalk.podbean.com
Peter Boyles, legend of Denver Talk Radio, had this to say about BirdTalk:
Listen to the Peter Boyles Show, Monday through Friday, 5:00 am to 9:00 am on 710 KNUS.