"Horned" House Finches!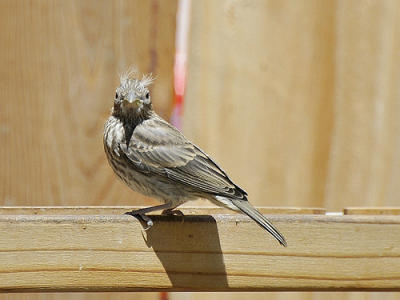 We have recently had questions about a new never-before-seen species of bird showing up in backyards. A bird with "horns". Summer is the time to look for "horned" House Finches at your seed feeders. These birds are not a unique species, but are young House Finches that have recently left the nest. For a short period of time, House Finch fledglings tend to retain patches of long, downy juvenile feathers that give them the appearance of having horns.
Another feature that is noticeable in many species of songbirds including House Finches, is the gape. This is the reminants of the large, wide mouth that was so useful in the nest to provide a large target in which the parents could put food. Even after leaving the nest, young birds often have a wider bill that is lighter in color in the corners. Like the House Finch "horns", the gape disappears as the bird gets older.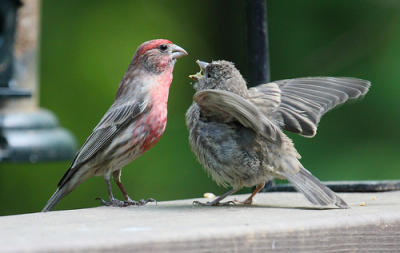 In addition to differences in plumage, recently fledged birds can often also be identified by their begging behavior. The young will chirp, flutter their wings, tilt their head back and open their mouth as they request food from their parent. House finch fledglings will even do this right on the birdfeeder. As the saying goes "You can lead a House Finch to the feeder, but your can't make him eat". For many species of songbirds like House Finches, there is a period of parental care the extends even after the young have left the nest.