Holiday Seed Wreath - 40% off with $50 Purchase - While Supplies Last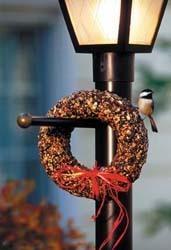 Treat Your Birds This Holiday Season with a Holiday Seed Wreath
The Wild Birds Unlimited Christmas Seed Wreath does double duty during the holidays. Not only is it a dining delight for birds, but it also adds festive cheer to any yard. This wreath is chocked full of black oil sunflower, peanuts, almonds, pecans, peanut suet nuggets and cherries. Show your birds you care this holiday season with a treat they'll enjoy time and time again.
While Supplies Last - Buy One Holiday Wreath, Get One FREE!
WHILE SUPPLIES LAST!