EcoClean™ Feeders
The Most Exciting Advancement in Bird Feeding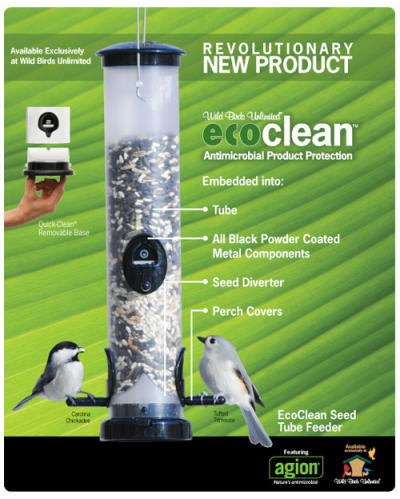 Available exclusively at Wild Birds Unlimited®, our EcoClean™ feeders and accessories are the most advanced bird feeding products available on the market.
EcoClean products feature a patented technology that inhibits the surface growth of damaging bacteria, mold and other microbes. This protection won't wash or wear away, and it uses environmentally friendly technology.
• 24/7 Antimicrobial product protection against the growth of damaging bacteria, mold and other microbes
• No more need for bleach solutions for cleaning feeders
• Quick-Clean® removable bottom on Seed Tube and Finch Feeders
• Lifetime Guarantee*
*Lifetime guarantee does not cover EcoClean perch covers. Replacement perch covers are sold separately.
Manufactured exclusively for Wild Birds Unlimited, Inc.
EcoClean is a trademark of Wild Birds Unlimited, Inc., Carmel, IN 46032.
EcoClean products are protected by U.S. Patents and Patents Pending.
U.S. Patent No. 5215039, 5452682, 7621232.
Agion is a trademark of Agion Technologies, Inc. Wakefield, MA.
Antimicrobial protection is limited to the treated article and does not protect a user against disease causing bacteria.
EcoClean is not available in Canada.